Belleville is a neighbourhood of Paris, France, you may find it's name familiar due to the French animated movie "The Triplets of
Belleville
" -that's why I'd heard of it!
The neighborhood is situated on and around a hill which vies with Montmartre as the highest in Paris. Belleville means "beautiful town" and, historically, was a working class neighborhood.
Today, Belleville is a colorful, multi-ethnic neighborhood and also home to one of the city's two Chinatown's. During the 1980s Parisian artists and musicians, attracted by the cheaper rents, the numerous vacant large spaces, as well as the old Paris charm of its smaller streets. Within the neighborhood there is a cemetery and park, the Parc de Belleville, which ascends the western slope of the hill and offers, in addition to a panoramic view of the Paris skyline, a strikingly modern contrast to the classical gardens of the city center and the eccentric nineteenth century romanticism of the nearby Parc des Buttes Chaumont.
The iconic French singer Édith Piaf grew up there and, according to legend, was born under a lamppost on the steps of the Rue de Belleville. A commemorative plaque can be found at number 72. A true Bellevilloise, Piaf sang and spoke the French language in a way that epitomized the accent de Belleville, which has been compared to the Cockney accent of London, England, although the Parisian dialect is nowadays rarely heard. Belleville is prominently featured in the 2007 biographical film of her life, La Vie En Rose. Belleville has been featured in many movies, books, TV Shows and even music.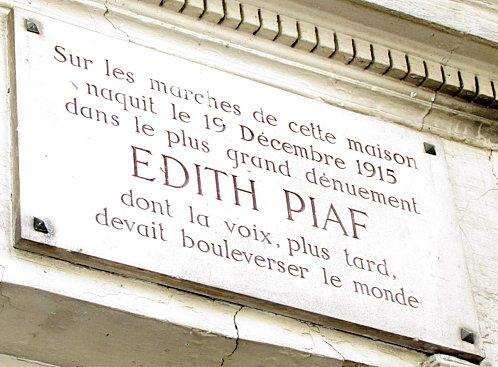 Personally, I strongly believe Belleville is one of Paris' best kept secrets, especially for tourists, that is. Not only does it have nice restaurants, boutiques and bars but it is also quite a charming. And, one of the best features Belleville has is definitely the -above mentioned-
Parc de Belleville
, which is a little known viewpoint, yet it is the highest point in the city and a fantastic place to enjoy a panoramic view of Paris. Belleville Park is located on a natural hill which is 128 meters above sea level, it is located in an area with a lot of history and many of the roads in the surrounding are have managed to keep their traditional looks which helps create a nice authentic Parisian atmosphere. There are a lot of stairs so in Belleville you can go up and down, here and there as you please The Place to go to get the best view here is in the middle of the park. From here you can see all around Paris below you. The park itself is also a nice place to relax and enjoy a picnic, which I didn't get to experience first hand as I visited it at night.
One of the good things of visiting
Parc de Belleville at night is that it can be quite a romantic spot, so you may wanna choose wisely who you go with. Another really nice thing is all the City lighting you can see from above; there are a few popular sites you can spot from the heights, the Tour Eiffel being the most obvious and impressive of them all, but you will also be able to spot the Tour Montparnasse, the Centre
Pompidou and a couple others -you just gotta open your eyes real wide! All in all, a great place to pay a visit while you're in Paris.
Photo credits: As indicated on watermarks.